People in the capital of Iraq, Baghdad, once again started demonstrating in the streets. Conflicts broke out between the police and the protesters in demonstrations in other cities. Demonstrators tried to close the main roads and streets at many points in Baghdad.
During the demonstrations that took place outside Baghdad, there were reports that the public closed the main roads in Nasiriye, Karbala, and Amara, and set up roadblocks and burnt tires.

In the protests on the first day of the week, a total of four people, two of them police officers, died and dozens were injured.
In Tayaran Square, where there were demonstrations on Sunday night, the demonstrators occasionally threw Molotov cocktails to the police, and the police intervened with the demonstrators with tear gas and sound bombs.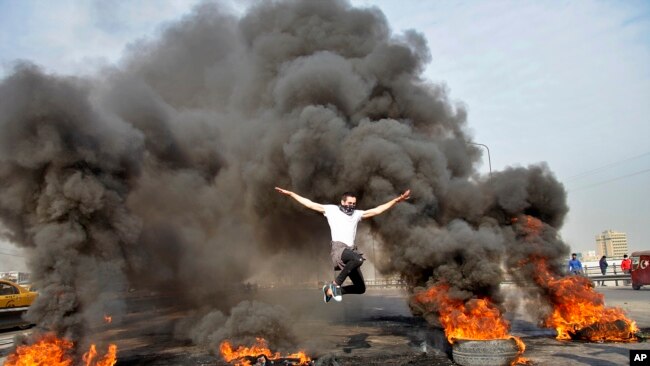 The demonstrators explain the reason for their re-landing as Prime Minister Adil Abdul Mahdi's failure to fulfill his promises, including the establishment of a new government.
Baghdad Police stated that all the roads that the demonstrators are trying to close by setting up barricades are opened as a result of the intervention of the police.

Street demonstrations that started on October 1st due to the lack of basic needs such as electricity and water and high unemployment and corruption in Baghdad continued until the last days of last year. More than 450 people have died in the demonstrations so far.