US President Donald Trump announced that they had been talking with Chinese President Shi Cinping about the coronavirus and that they would cooperate with China.
In the message of Donald Trump, "We recently had a long and good conversation with the Chinese President Shi on the phone. He is strong and determinedly focused on leading the Coronavirus. He thinks they are very good. They even set up a hospital in just a few days. It is not easy, but it will be successful. Especially when the weather gets warmer and the virus is weakened. China is experiencing a great discipline because it is a very successful operation. We will be in cooperation. " said.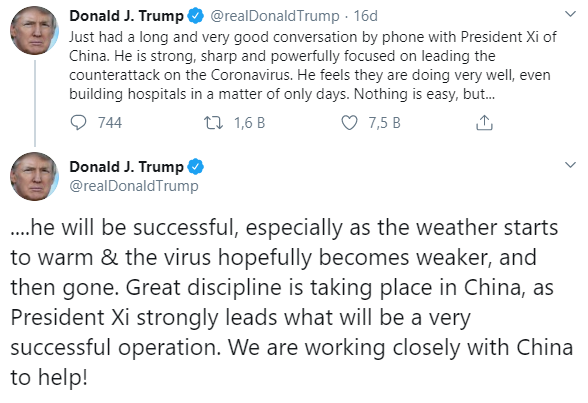 Shi's telephone conversation with the White House coincided with the time when mourning and anger were expressed on Chinese social media platforms for ophthalmologist Li Wenliang, who lost his nightlife. China previously accused the United States of fear of the epidemic.
The new type of coronavirus
The virus was first detected on 12 December in the city of Wuhan in Hubey province. Wuhan Municipality Health Commission announced on December 31 that 27 more people who had contact with the Huanan Seafood Market in the city had seen the "mysterious" disease and closed the market.
Since the virus spread to Wuhan and other cities and provinces in a short time, public transportation had been stopped in 17 large and small cities of Hubey, especially Wuhan, since January 22. The population of the cities reaches 50 million.
Due to the epidemic, many airlines have suspended their flights to China. To date, one person in the Philippines outside of China has died from a new type of coronavirus.